Yoshi Doll's houseEdit
Yoshi Doll lives in a doll house that can be teleported to diffrent dimensions.
Last seen: Hyrule on Link's awakening.
Places you can find me at: Mushroom world, Mobius,Hyrule and the real world.
Two places im always at: The Real world and the Mushroom world... duh.
Living Room
Edit
Welcome to my doll house Im the Yoshi Doll. My living room is big I have a couch a table and chairs and a TV yes its a real TV NOT a toy TV.
Dining Room
Edit
The Dining Room and the Kitchen are in the same room.
Its a bathroom to go to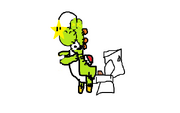 the bathroom in.
My room also known as Staff member talk
Edit
So the staff member talk page is in my room its were the Staff like me can talk in.No one else or THEY WILL BE CURSED BY TD!!!!!!(ALso Known as Banned or blocked.)
Guest Room also known as chat
Edit
Too bad only members can go and not real guest.
Welcome and enjoy
Edit
Now that you got a tour of my house also known as Livingdollspedia please follow the rules and have a great time.Also remember to stop by the toy shop or the toy factory. Also stop by my room if your a staff also known as admin or chat moderator or anything else and my mail box
Community content is available under
CC-BY-SA
unless otherwise noted.